You can guess, your body fat with our body fat percentage calculator.  Remember that any calculator, although not complicated, can replace travel to a doctor's office. You should consider this result as a rough approximation; This can only tell you that if your body fat percentage is very high, but if the result varies slightly from the recommended value, there is no reason to panic.
To calculate body fat percentage, you have to take the following measures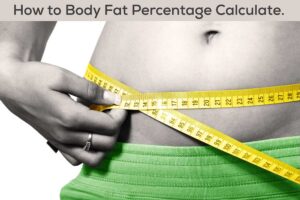 How to Calculate your Body Fat Percentage ?
To calculate the body fat percentage, you would like to require the following measurements:
Height (cms) : First you measure your Hight in Centimeters.
Neck Girth (cms) : Neck girth you measured it in Centimeter.
Waist Girth (cms) : Your waist is the smallest part of your torso. The measuring tape that you bring around your waist should sit tight, but it should not "dig" into your skin. Don't pull your stomach either.
Hip Girth (cms) : You measure your hips which is the widest point below your waist. Remember to remove your clothes and keep your feet together so that the measurement is as accurate as possible. Men do not require this measurement to calculate body fat percentage.
Put this measure in the calculator below and see your result.
Body Fat Percentage Calculator
Based on the calculated value of the fat percentage in your body, you are also classified into one of the five groups given below.
Just the essential % of fat
Typical Athlete
Physically fit
Acceptable
Obese
Dieting Alone will not help to reduce the fat in your body. As a matter of fact, if not done properly it can have serious after effects. Some sort of exercise is always advisable. While exercising you may want to use the Body Fat Calculator at regular intervals to track your progress and if your exercise is paying off.
Uses of Body Fat Calculator
We don't often realize the significance of knowing our body fat percentage. It is a very common stereotypical misconception that body fat calculators and other body related stuff is relevant only for bodybuilders and athletes.
Scientists say that depending on the age, gender and bodily dimensions a certain amount of body fat is necessary for any person to be called healthy. Neither above nor below this range is considered good.
There is a difference even between the fat levels which are considered healthy for women and for men. Health experts argue that women require a higher percentage of body fat for safe pregnancy.
Body Fat Chart • Categorization based on Body Fat Percentage
The chart given below shows the body fat percentage for Men and Women and how they are categorized.
Category Women Men Just the essential % of fat 10 – 13% 2 – 5% Typical Athlete 14 – 20 6 – 13 Physically Fit 21 – 24 14 – 17 Acceptable 25 – 31 18 – 24 Obese 32% or more 25% or more Health Calculators
​
Body Mass Index Calculator
Ideal Body Weight Calculator