How to dress for your body type male | Best body shape for men |
What is my body shape male | Which body shape is best for male |
How do I know my body type male | Which dress is best for your body type?
Friends, many Questions are on this topic. But have you ever noticed your dress that you wear every day? Have you ever noticed in front of the mirror that you have worn the right outfit according to your body? And ever tried to know what shape your body is and according to that body which dress will suit you?
It is very important for men to dress according to their body type. For that, you first understand this article to understand the shape of your body, why to choose the right clothes to look beautiful, which is the desire of all men. How We Dress For Our Body Type Men Here we will learn to focus attention on the best assets of the body, which will help you look stylish and perfect.
You know that your body type of clothes is always in fashion. We just have to understand that. Before that, you stop trying to keep up with the trends, as it can do the opposite for you.

Types of body shapes men
As a man, you usually fall into one of five body types. Inverse triangle, Rectangle, Triangle, The oval, and The trapezoid.
Fit is the number one principle when it comes to improving the way you look, but knowing your body type, and knowing what feels good on you is extremely important.
Understanding whether you fall in the category of tall or short and overweight or thin, it is also important that what looks good on a small overweight person will differ from a tall, muscular person.
Rectangle Male Body Shape
The body resembles a rectangular shape and therefore your chest, waist, and hips will have the same shape. Your torso will be like a straight block since your shoulders and hips are the same widths, so you need to dress in a way that makes the shoulders look wider.
This requires that when you have a rectangular body shape, your objective is to widen the shoulders and narrow the lower torso.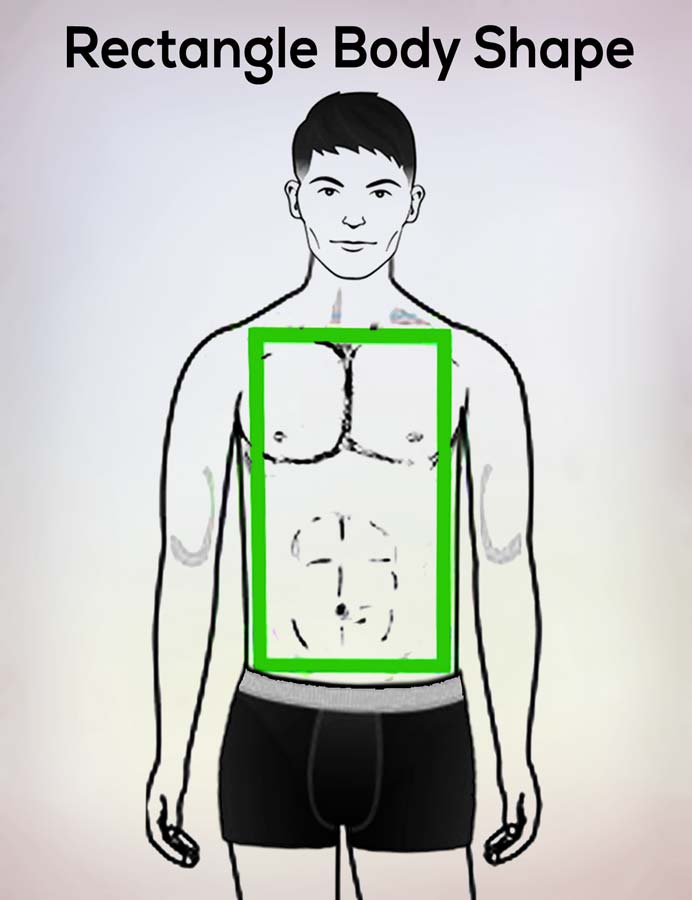 Rectangle Body Shape Male Clothing
How to dress for your body type- Rectangle Body Shape Male Clothing
1)- As stated, the size of your chest, waist and hips will be the same, so you have to emphasize your shoulders, this means choose your dress to show the shoulders wide.
2)- Get structured jackets and blazers that add shape to your shoulders. That means take a jacket that has a cushion on the shoulder, the shoulder should be wide and you add shape to your shoulders.
3)- Use horizontal stripes and prints, especially across your upper torso, to make your shoulder look wider as they will add width to your modest frame.
4)- Layering up is something else to consider as well, you should wear a button-down shirt under your crew-neck sweater so it would be great for you to really draw attention to the top.
5)- You have to make sure that your clothes fit at the waist. What I mean to say is that you are wearing a shirt, and the shirt is just cut to go straight. If it goes straight down, the do-it-yourself rectangle exposes the shape. So you take your shirt in "V" shape or get it sewn.
6)- 'U' and 'V' neckline t-shirts are good choices over you, you can wear them.
7)- Use some accessories to fix eyes like pocket squares, lapel pins, fat ties, wide collars, tie pins around your shoulders. The neck is never out to keep all attention on the upper half.
8)- Whenever you choose pants, trousers or jeans, choose a straight cut slim fit pants.
9)- Choose a single-breasted one to draw the attention of the audience to the upper chest for the suit, and you will look more proportioned and stylish.
Men Of Rectangular Body Shape Should Avoid These Clothes
Don't wear oversized clothing.
You should avoid a shirt, T-shirt with rigid vertical stripes. These vertical lines run parallel to your body shape and reinforce a straightforward image.
Also, you should wear a jacket or blazer with wider lapels that focus on your shoulders, so that it actually maintains a better ratio.
Do not wear a double-breasted jacket. The double-breasted jacket is about to draw attention to the shape of your rectangle. You want to avoid the double-breasted jacket at all costs.
Triangle Male Body Shape
These types of men are most likely to have larger hips around the waist and in relation to the top part of their body, especially as they get older. It forms a natural triangular shape with the base at the waist and the tip at the face.
You can guess the triangle-shaped men as soon as you see them, their shoulders are less wide, and the chest is also less wide than the waist, and the waist is much wider than both. This kind of person gives the impression of being "bottom-heavy". So you guessed it. They resemble oval-shaped males.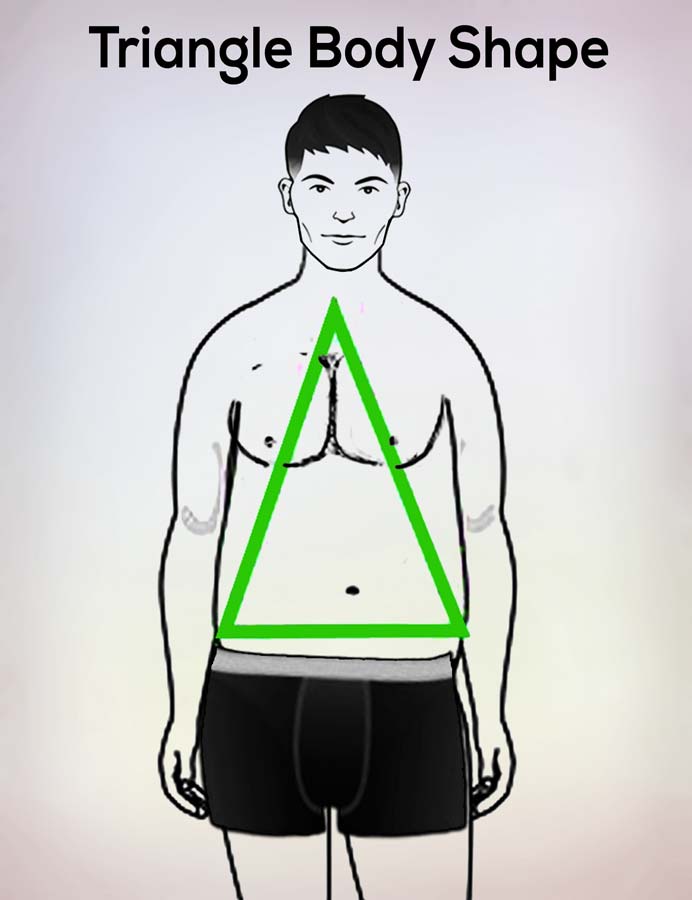 Friends, having a triangular body shape does not mean that you are in bad shape, but it does present a challenge in finding clothes that make your entire body proportional. We believe that most men's clothes should be designed according to their body. Now the triangles will look perfect on the body – broad at the top and narrow at the waist.
Triangle Body Shape Male Clothing
How to dress for your body type – Triangle Body Shape Male Clothing
1)- When you have a broad lower body that you want to blur, then jackets are the best choice for you. You can also wear a jacket with a lot of padding in the shoulder area, which they can give to the upper body. Provide structure, and give you more shape in your shoulders which will make it proportional.
2)- Be careful with light colors for the upper body, choose folder prints such as plaid and striped, always giving preference to proportional stripes rather than asymmetric.
3)- Horizontal bandages are preferred only when they are visible above the chest. This pattern creates a streamlined effect that makes the upper body look wider.
4)- The best option if you chooses slightly fitted single-breasted suits. It will not give you extra room around your waist.
Men Of Triangle Body Shape Should Avoid These Clothes
You should avoid V-neck T-shirt as it will cut the shoulders and make the shoulder width look shorter.
You should not wear light colored pant, jeans, trousers.
If you want to wear a belt, avoid fancy broad buckle as it will draw attention to your waist.
You should also avoid tight-fitting clothes, otherwise your body will look unformed.
And one special thing is that you do not wear over-sized clothes because it will make you look like a balloon.
Looking in the big shoulders is your main goal, then you should also avoid such thing, which makes your lower part look heavy.
Trapezoid (Rhomboid) Male Body Shape
Which body shape is best for males? If you have a body trapezoid (Rhomboid) shape then you are very lucky if you have a body shape because all types of clothes, prints, colors, patterns, cuts will work best for you. The trapezoid body shapes are blessed with broad shoulders and wide chests and a narrow waist. Many people confuse trapezoids for rectangles because the differences are minor.
There are no hard and fast rules to follow for this type of body. Trapezoid body shape works well for almost any well-fitting style. Your only limit is your bravery.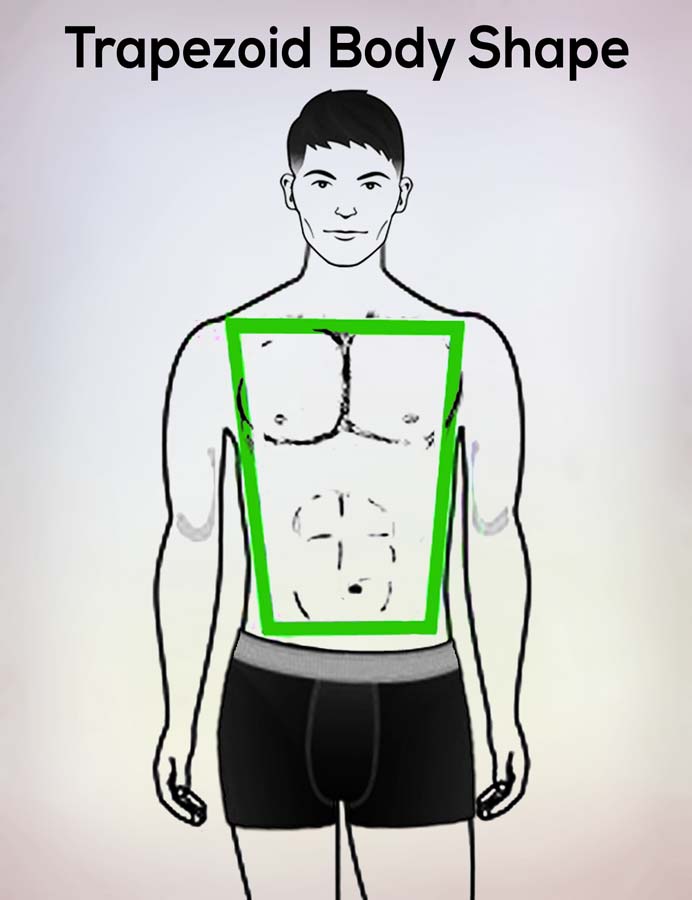 Trapezoid (Rhomboid) Body Shape Male Clothing
Show your trapezoid (rhomboid) body shape is slim and fit clothes. So you will be seen in effective handsome look.
1)- A lot of work is done by your body shape, so both simple, elegant, professional, and casual or party tops or shirts are enough for you.
2)- Vertical stripes will make you look a little taller for shirts. So if you add horizontal bulk checks and straps, you should check your height, but you need to base your height on it.
3)- If you wear a blazer or a suit, jacket, it tapers your waist, making your stomach look thinner and your shoulders wider. For this, you wear it with a button on the waist for maximum effect.
4)- If you want to wear a necktie, stick to a normal length (the tip should be right around your belt buckle) and its normal width (about 3 "to 3 1/2"). If you regard a short, thin, thick, or otherwise odd-shaped necktie, it breaks the balance of your torso.
5)- If you want to wear trousers, avoid baggy clothes. Find a brand with a close fit or have your trousers tailored. You should work fine with your construction stylistically, With most of the colors and patterns. Cuffs and pleats are up to personal taste. If it suits you then definitely wear it.
Men Of Trapezoid (Rhomboid) Body Shape Should Avoid These Clothes
Try to avoid wearing baggy clothes that do not fit your Trapezoid (Rhomboid) Body Shape body correctly.
Always remember that you do not try to make your look too much, it will spoil your look.
Ovel Male Body Shape
Oval-sized men are identified as soon as they see the person. Oval body has slimmer shoulders and chest, wider waist, and thinner hips. It can be inferred that it is an Oval (elliptical) body shape.
For oval shape body type, we want your clothes to reduce the bulge of your torso and make you look thinner and look attractive.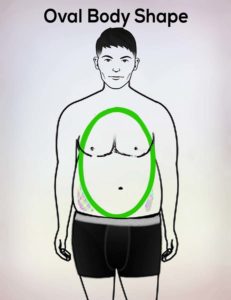 Oval Body Shape Male Clothing
Show your Oval body shape is slim and fit clothes. So you will be seen in effective handsome look.
1)- You should search for a brand that works for you or suits your shirt. A wide collar spread works well for wider men, especially when the neck and face are as wide.
2)- To make your body look taller, you can wear pinstripes or vertical stripes.
3)- Choose fabrics that are textured and printed in dark colors.
4)- You make sure that your sleeves and trousers are in the proper length, so try well-sewn clothes.
5)- For the body to look longer than the torso above the waist, you will find the V-neck T-shirt right on you.
6)- The three-button blazer is a classic and perfect silhouette for you. It will be perfect for your formal events and parties.
7)- Straight trousers will work best for you, and at the same time the waist should be slightly loose.
Men Of Oval Body Shape Should Avoid These Clothes
Wearing a tight fit shirt or T-shirt on your torso is a bad option for you. You should avoid it.
You should avoid costumes such as large horizontal stripes, bold prints, large floral prints and wide stripes.
You should avoid big and baggy clothes, this will make you look unconcerned.
Avoid polo and wide neckline T-shirt, it will not check on you right now.
Invert Triangle Male Body Shape
The shape of this body type, if seen or understood, represents a large triangle with the base of the shoulder and the point of the belly button.
Inverted triangle body shape is well developed, so the chest and shoulders are much wider than your waist and hips. And this is possible when you spend hours in the gym every week working as an energetic muscle pump. And these are the result of hectic training sessions in the gym, with shoulders and thighs, and a narrow waist.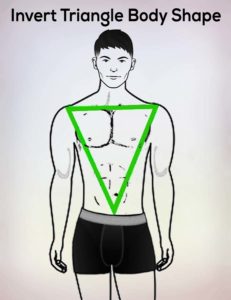 Invert Triangle Shape Male Clothing
How to dress for your body type – Invert Triangle Male Body Shape
1)- You should choose a slim-fit shirt. You can wear the shirt to show yourself an incredibly fit body but remember. You want to hint at your fitness with subtlety, not wearing a figure-hugging costume to shout it out.
2)- You choose a T-shirt with polo neck and V-neck. It draws attention to the chest and makes your shoulders smaller and more fit.
3)- You choose a T-shirt with polo neck and V-neck. It draws attention to the chest and makes your shoulders smaller and more fit.
4)- Microprint shirt or T-shirt will work best, it will look beautiful on your body.
5)- You choose a suit that does not have built-in pads, try shirts that fit you well, this kind of selection adds more to your personality.
6)- You should choose straight fit pants but not very comfortable and slim fit.
7)- You must choose a belt to highlight an area around your waist.
8)- Suspenders will help you get more hips and choose light colored trousers to get the impression of wider hips.
9)- Try darker, plain textured clothes to give you a handsome look.
Men Of Invert Triangle Body Shape Should Avoid These Clothes
You should avoid any kind of details like pads around your shoulders as it will attract everyone's attention to your broad upper body.
Avoid structured tailored suits and intelligent lapels, as this will emphasize your heavy upper.
Always take care that you do not choose slim fit jeans and trousers.
Avoid scoop neckline and dark trousers.
Do not choose jackets and shirts with horizontal stripes as well.
Body Mass Index Calculator
Ideal Body Weight Calculator
Body Fat Percentage  Calculator
Learn how to tie a tie step-by-step guide that will help you with 15 classically popular necktie knots.