Men's Belt Guide | Best Belts For Men | Belt For Men | Types Of Belts | Leather Belt For Men | How to Buy a Men's Belt – The Ultimate Guide
Men's Belt Guide: Who does not want to look perfect and complete, they all want people to notice them or take tips from you about their style. Every smart man has some qualities. Which helps her to look attractive. But any man really becomes a smart man only when he pays attention to even the smallest things. Fashion experts believe that belts are an integral part of our wardrobes. The function of a belt is not only to hold your pants at the waist. The belt also works to make the upper part of your body stand out from the lower part.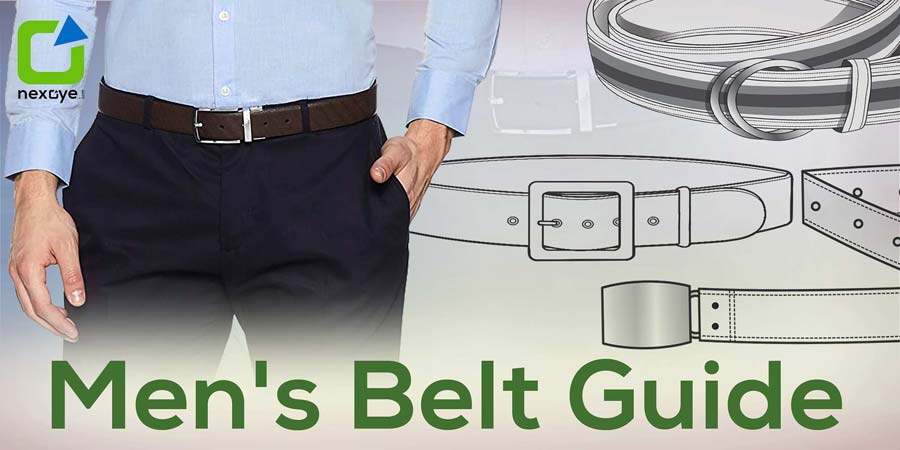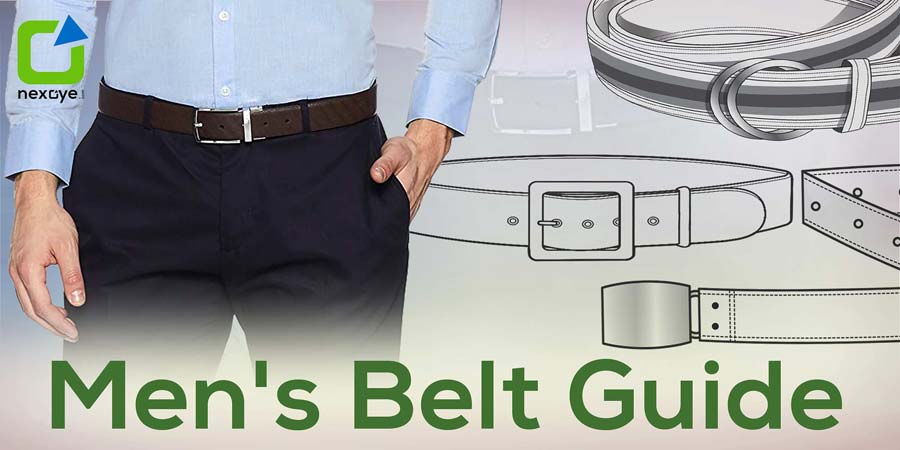 Why do you need a belt?
A perfect and styles man is visible when he selects the garment according to his body and when he chooses the right type of belt and wears it. Usually, this is a classic men's accessory. It's a sign of a well-dressed man. If you have the wrong belt on your stomach it attracts the unwanted attention of people and makes you feel uncomfortable and self-conscious.
What is a belt?
Belts are used in a variety of ways, but today we will discuss accessories in men's clothing. A belt is a flexible band or strap, usually made of leather, plastic, or heavy fabric. which is naturally worn around or near the waist. The ends of a belt are free, and a buckle secures one end of the belt to the other end or near the other end to make the belt loop.
Men's Belt Guide most logical Question: What are the basic types of belts?
There are two types of basic belts First– Formal Belts And Second are Casual Belts.
Formal Belts – Leather belts give a stylish and sophisticated look to your entire outfit when you are wearing a formal leather belt. Leather belts never go out of your style and are highly suitable for your formal outfits like suits, trousers. The belt should always be bought according to your clothes, occasion, and need. If you wear a jeans belt with formal clothes, then it will not be considered good.  
Casual Belts are typically worn with casual pants such as jeans and sport slacks. Casual belts are designed to suit your casual outfit. They vary in material, shape, buckle, color and style. It is found in more variety than casual belts. If we talk about its finishing, it is usually flat and silent.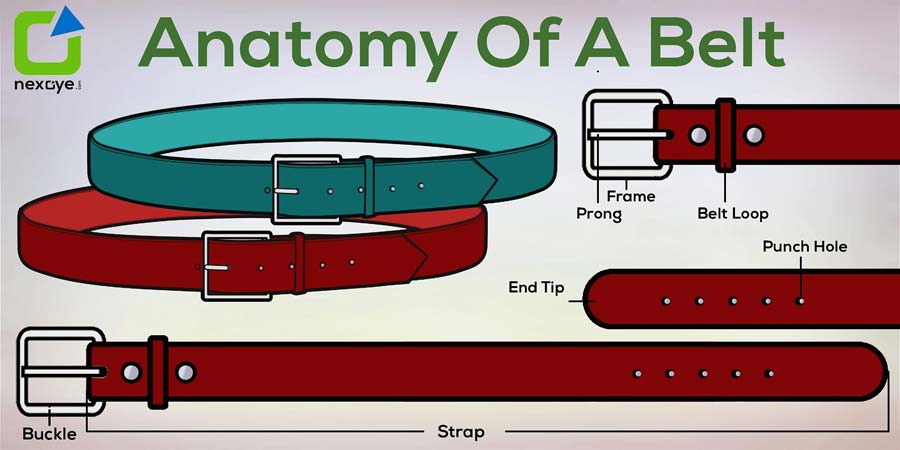 Anatomy Of A Belt
Men's Belt Guide to explain as mentioned above, the belt is a flexible band or strap, usually made of leather, plastic, or heavy fabric. Most belts consist of two parts.
I – Buckle,  II- Strap (lease)
Many types of belts also have a keeper loop or an end tip and this saw has metal on its end tip, or leather on a fabric belt for styling. That end tip protects the end of the belt and can make it easier to buckle. After it is buckled, the keeper loop stops flapping the free end around.
If we discuss the design of some other belts, then the strap and buckle are permanently attached together and they can be detached or say they can be switched out. The part of the buckle that attaches it to the strap is called the chap. There is a range of such types of belts designs.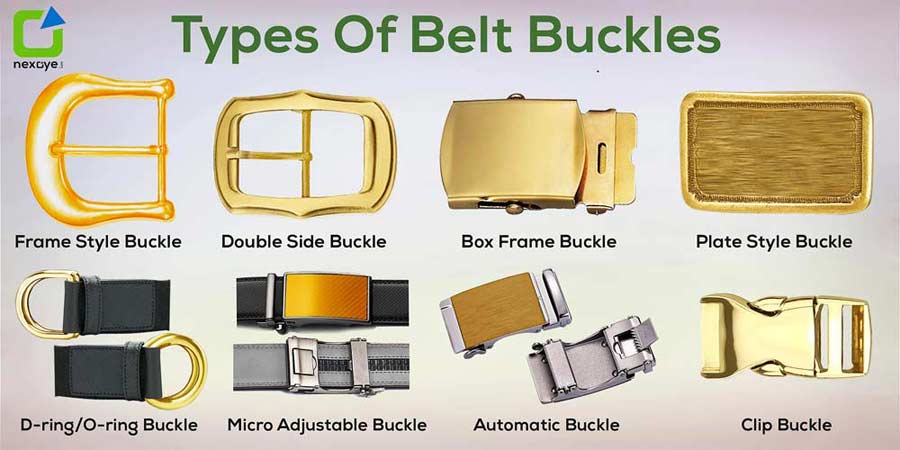 Types Of Belt Buckles
Earlier only two or three types of design buckles were in trend, but now in this era of fashion, now many types of design buckles have come into the market, if we classify the main buckles then it will be Nine types of buckles whose names are as follows Is – It is my buckles men's belt guide.
Frame Style Buckle
Double Side Buckle
Box Frame Buckle
Box Out Buckle
Plate Style Buckle
D-ring/O-ring Buckle
Micro Adjustable Buckle
Automatic Buckle
Clip Buckle
Frame Style Buckle: This buckle is seen on almost all formal belts, and is also seen on casual belts. This strap goes through the frame. When the belt is fastened it goes through the hole in the prong strap.
These buckles are divided into 3 types, their names are as follows – Screw Closure Buckle, Clamp Closure Buckle, Stitch Closure Buckle.
Double Side Buckle: This type of buckle, double side belt is the opposite of single side belt. It has the same distinctive look of double sided belt and this design adds to the wearer's attire with just one punch. It is always used on a casual belt with double side buckle. is used.
Box Frame Buckle: If we talk about this buckle, it is like a box and it is hollow, it is metal and an open end, the strap is pressed against the inside of the post box and there is no need for holes in the strap of this belt.
Box Out Buckle: This type of buckle is of a simple leather or synthetic frame. This belt is of thread medium. It is not very durable. It is commonly found in women's fashion. This belt is used for decoration.
Plate Style Buckle: This type of buckle is usually paired with detachable snap belts. It is referred to as straps without buckles. This plate is usually decorated. This type of belt is worn by cowboys and bikers. The hook in the belt goes through the front of the strap which adds the throw (the distance from the chap to the hook) to the length of your belt.
D-ring/O-ring Buckle: D-ring and O-ring buckle In this type one or two rings make up the buckle. Belts are fastened by a thread through them. It is used with casual, braided, webbing, and canvas belts.
Micro Adjustable Buckle: This type of buckle uses a ratchet-style track system that requires a special type of strap. This is a kind of piece of metal that presses the 'teeth' of the track system into the strap. This type of belt requires no holes, it allows quick adjustments.
Automatic Buckle: Automatic Buckle It is comfortable, that's why this type of buckle was made and people buy belts with this type of buckle according to their convenience, many types of automatic buckle straps are also designed according to them.It also had many types of buckles, whose names are as follows. Auto Press Buckle, Auto grip Buckle, Auto Lock Buckle, Automatic Latch Buckle, Automatic Locking Splice Buckle
Clip Buckle:  There are two main types of this type of buckle. 1- clip-on buckle, 2- clip-latch buckle Clip-on buckles can be snapped off by sliding the tail end of the belt through the loop on the back of the buckle, or to hold it in place. And in the clip-latch buckle, the protuberance at one end of the belt can be inserted into the other end and then the buckle can be closed to close the buckle.
Belt Strap Materials
When it comes to belt strap material, durable material is considered very important. The leather of cow, buffalo, sheep, and goat is mainly used. These leathers are used to make beautiful and durable belts. Leather from young cows is called calf leather and is particularly soft and expensive. Cow leather also comes in many different forms, patterns, sizes and colors. It can be used for dress or casual belts. 
Men's Belt Guide to Belt Strap Materials
FULL-GRAIN LEATHER This leather is the highest quality grade of leather It has the toughest leather top and includes all natural grain. If you take the leather made of calf skin, then it is the softest. And it is made of the highest quality formal belt which will be full grain calf skin. Belts are more expensive for manufacturers to buy and therefore more difficult for manufacturers to work with. This is reflected in the cost to the consumer.
TOOLED LEATHER commonly used in the leather sector, are tooled leather and embossed leather. which is decorated by "tooling", a stamping process that leaves patterns on the leather, sometimes the term tooled is used because the effect you see on leather is like a painting on leather or a 3D Looks like a pattern. But when you look closely, it is seen in the complex that the person creates in the craftsmanship.
BRAIDED LEATHER belt is a different type of designed belt it is made by weaving this way the leather is taken the best to make this leather is soft and flexible, this type of leather is braided and used with frame-style buckles And this you can put a prong in any hole in the braid. It can be easily cut into different numbers using the same technique.
SUEDE LEATHER is a high-quality form of leather, made from under the skin of animals. It is made from goat, calf, and lamb, and if big animals like cow and buffalo are cut into their thick skin, suede is also used, but due to the amount of fiber, the shaggy nap occurs. As noted, suede does not include a hard outer skin layer and is less durable, but softer, than standard "full-grain" leather. Its softness, thinness, and flexibility are like fabric.
EXOTIC LEATHER is all technically casual, but it can also work formally when kept subtle with a dark color like black. The ostrich, lizard, crocodile, python, and alligator belts are even more advanced with very recognizable patterns and textures. They tend to fetch a higher price.
Some other materials are used in the manufacture of belts and these also have special importance in making belts so that the belts and features appear as some objects are of this type. Leather-backed ribbon, webbing, canvas, vinyl, rope belt, etc.
Types Of Belt Width
Men's Belt Guide to Types Of Belt Width – Men's belts come in the largest variety of width options, and they come in various widths that we have categorized below.
5cm/1inch, this is the width of the casual belt.
3cm/1.2inch and 2cm/1.3inch, this classic belt width.
5cm/1.4 Inch Similar Width Belt Multipurpose.
4cm/1.6 inch Such Width Belt Jeans.
Belt Stitching Patterns
Men's Belt Guide to Belt Stitching Patterns – There is also a lot of variety of sewing leather belts. In this era of fashion, leather belts are being made more attractive by giving a new look by stitching in belts. Leather stitching is done in many forms. For example, single stitch, double stitch, and triple stitch are done on the border of the belts. To add more designs, the entire belt strap is being revamped by design such as cross-stitch pattern, and this is very much liked by the logo and it goes a lot in the fashion trends.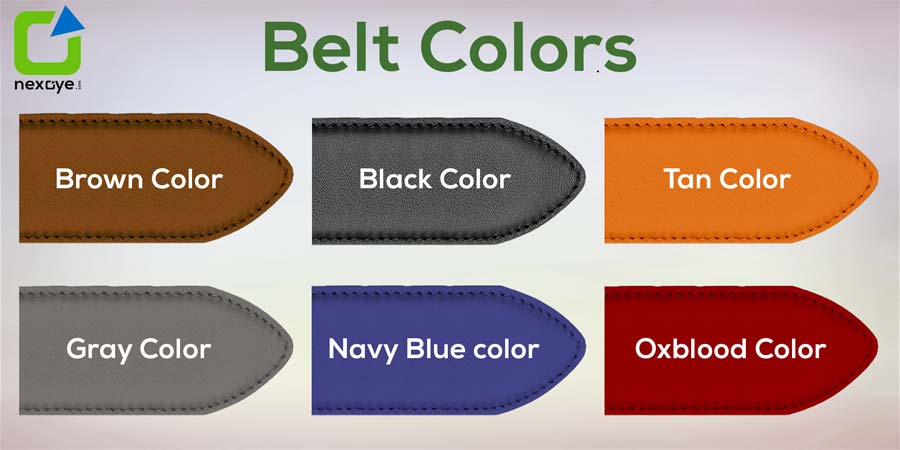 Belt Color And How To Match Your Belt With Color Combinations
When you wear a formal belt it is very important to take care of the color combinations, as you can go for black and brown belts for leather, but match the leather of the belt and the shoes as well as the metal in an outfit. Be careful to eat. Your belt should not only be the same color but also the same color and shine as your shoes and other leather goods. And some other colors for summer when you wear a casual belt are brown, black, tan, gray, navy, oxblood, and white.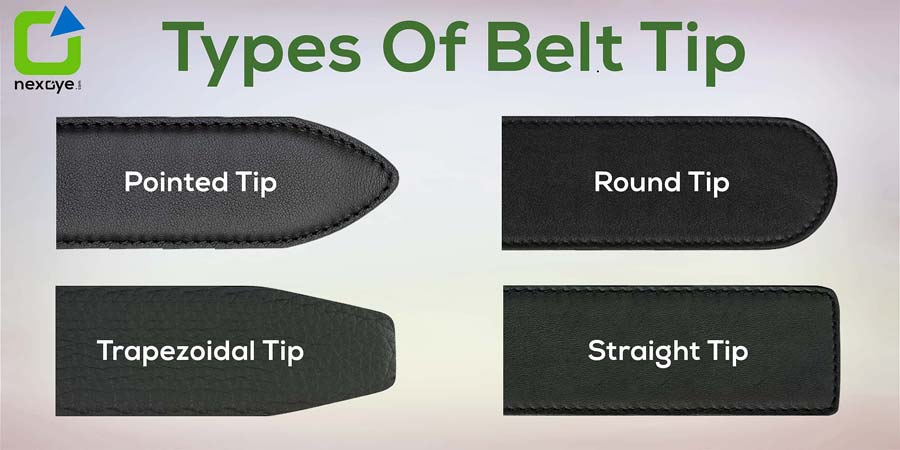 Types Of Belt Tip
Men's Belt Guide to Types Of Belt Tip – Basically, there are 4 types of belt tip: Pointed, Round, Trapezoid, and Straight. Pointed and trapezoidal finishes are by far the most common and are especially popular with classic belts. And the straight tips are considered in the option of a modern look. And round finishes are rarely used in general.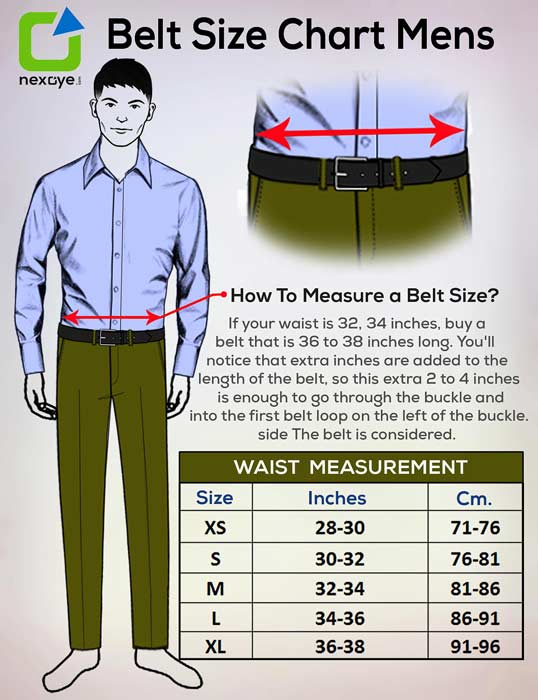 Belt Size Chart Mens
How To Measure a Belt Size?
There are some points to be kept in mind for the sizing of the belt-like the size of the belt is based on your waist size. To buy the right size belt, measure your waist where the waistband of your pants sits, adding an additional 2 to 4 inches apart when you measure it. Then you choose belts that are the combined total measurement; For example, if your waist is 32. 34 inches, buy a belt that is 36 to 38 inches long. You'll notice that extra inches are added to the length of the belt, so this extra 2 to 4 inch is enough to go through the buckle and into the first belt loop on the left side of the buckle. The belt is considered.
How do you know your belt size?
Belts in the market are often indicated in inches or centimeters or in Roman numbers. This number corresponds to the length of the strap and is measured from the buckle to the middle hole where it should be fastened.
Some branded companies consider it right to give their brand belt the same size. Like readymade garments that come in this size (XS, S, M, L, XL), and it often comes with a waist range, such as 28",  30″, 32″,  34″,  36″,  38"
We can understand all these from the table given below.
WAIST MEASUREMENTMENT

| SIZE | INCHES | CM |
| --- | --- | --- |
| XS | 28-30 | 71-76 |
| S | 30-32 | 76-81 |
| M | 32-34 | 81-86 |
| L | 34-36 | 86-91 |
| XL | 36-38 | 91-96 |
Conclusion: How To Dress With A Belt for Men
Men's Belt Guide: How To Dress With A Belt for Men
Most of the people keep many types of belts but I would recommend that you should have mainly three types of belts like Formal Belt, Casual Belt, Webbed Fabric Belt. 
Dress With A Formal Belt – You can use the formal belt for business and evening wear. This type of belt has a strap width of 1-1.5 inches and should always be worn in black or dark brown leather. Usually, it should be a shiny belt. It should be embellished and short, plain, with polished buckles. Normally the frame Matches the leather to the style, match the metals then it will suit you better.
Dress With A Casual Belt – You can wear a casual belt with jeans. This type of belt has a strap width of: 3 cm/1.2 inches and 3.2 cm/1.3 inches and can be thicker than a dress belt. It can be taken in the form of natural brown leather. This type of belt is embellished with braids and mats and the special feature of this belt can be a large and or more decorative buckle such as a plate, box, or frame which is made of leather. Does not match exactly The color of its belt can be brown, white with a tinge of brown.
Dress With A Webbed Fabric Belt – A webbed fabric belt is taken for summer casual. This type of belt has a strap width of 1.5 inches, a strap color can be selected and its belt can be patterned. Usually, this type of belt has a double D-ring buckle and looks stylish when worn with chinos or shorts.
Men's Belt Guide: Leather Belt Care
How To Leather Belt care? To clean the belt One must first know how dirty the belt is if the belt is only dirty, scraped, or is very dirty, and or is a dry belt. Sometimes more or less needs to be done when it comes to cleaning and caring for a leather belt. So be careful not to overdo it as belt leather is naturally tough and flexible.
If your belt is just dirty, clean your belt with a soft cotton cloth and very little hot water.
If your belt is very dirty, then you can use a leather cleaner. This will clean the belt but will also remove essential oils, so use a belt conditioner afterward or your belt will dry out and risk breaking.
Now if your belt is dry, use a very small amount of conditioner (like Lexol) on the leather. Apply it with a small cotton rag. You then leave it on for 10-15 minutes, and wipe off the residue on the remaining belt.
If you have a scrap in your belt, it will often get scraped in your belt by friction. To remove it, the bandage is quenched with oil. This is less of an aesthetic issue for a casual belt than a formal belt.
Body Mass Index Calculator
Ideal Body Weight Calculator
Body Fat Percentage  Calculator
Learn how to tie a tie step-by-step guide that will help you with 15 classically popular necktie knots.